A PERSONAL LETTER FROM JAY, THE OWNER OF PETIT LOGIS
Dear Visitors,
It is always better to book directly through my website or by phone to give you the best rates and availability. I don't give third party reservation services all my available rooms and they are costly to me and possibly to you. Also don't let them threaten you that the reservation cannot be cancelled, it can be. They do not take payment for me, they only take your credit card information and I get it from them. I am the only one that can run your credit card.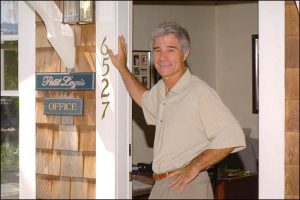 I am writing this letter in order to provide you with a better understanding of the unique qualities of Petit Logis, and answer some questions that may not appear on other parts of the web site.
I am often asked the correct pronunciation of Petit Logis, it is (Petea Lowgee) the S is silent.
I am a building designer and used my talents to completely renovate an old commercial building that I owned for many years. Each "spacious room", a typical description from my guests, has high ceilings plastered walls softened by rounded corners, a gas fireplace and a large bathroom and queen size bed. They all feature a 6′ whirlpool tub and a separate tile shower. The rooms are air conditioned and sound proofed for a quiet night sleep. I am now happy to announce I have gone solar, I am a net producer of electrical energy.
The location is ideal. Yountville is surrounded by vineyards and near to most wineries. Silverado Trail is 3 minutes away and highway 29 is one minute away. We are at the center of town near to fine restaurants and shopping. I have protected the privacy of my guests with beautiful landscaping and high hedges.
We do not serve breakfast  but we are fortunate to have Bouchon Bakery right next door where you can purchase great pastries and Lucy at Bardessono Hotel across Yount Street another option is Southside Cafe at 6752 Washington Street at Stewart Cellars.  We provide coffee and tea in the room, and there is a small refrigerator for keeping your wine and cheeses chilled.
In making reservations, it is our policy to accept requests for a specific room and we will attempt to accommodate you. However, because of the size of the inn, 5 rooms, it is not always possible but we do try. Returning guests typically ask for the room they were assigned last time, simply because they were left with such a positive memory. Honestly, I think you would enjoy any of the rooms, my wife, Judith, had a hand in decorating them.
We suggest making reservations directly thru my website or call me.  Third party online bookers may not have all of our availability and their price includes their commission amount.
Each room has a hairdryer, iron, ironing board and WIFI internet access.
Late checking in? No need to call we handle late check ins easily. Also, no need to be concerned about parking we have a free private parking lot on site.
Children are welcome and there is a futon available, make sure you request one while making reservations if needed.
KT is helping full time and will help with your room and call her should you need anything by using 707-944-2332. KT is answering most phone calls but I can still be reached on my cell at 707-321-5425. I have a busy life. I enjoy flying and working outside and in and around the vineyards, so you may not always see me, though I do make daily appearances to my office and we are always reachable for any reason.
I hope this has helped answer some questions, if you have more please feel free to call 707-944-2332.
We hope to see.
KT and Jay